In the last Bitcoin news, the price of the first cryptocurrency by market cap has been experiencing some gains on low timeframes. However, traders on the crypto exchange Binance were surprised when the BTC price suddenly dropped.
As of the writing of this Bitcoin news, the cryptocurrency's price trades above $27,000 for the first time in weeks. BTC recorded a 2% profit in the last 24 hours and seven days, while the price of Ethereum leads the incipient bullish momentum.
Shocking Bitcoin News For Traders On Binance
According to crypto report Colin Wu, the price of Bitcoin crashed on the trading venue from its current levels to as low as $2,700. As seen on the chart below, and unlike previous occasions, the crash took place on different occasions.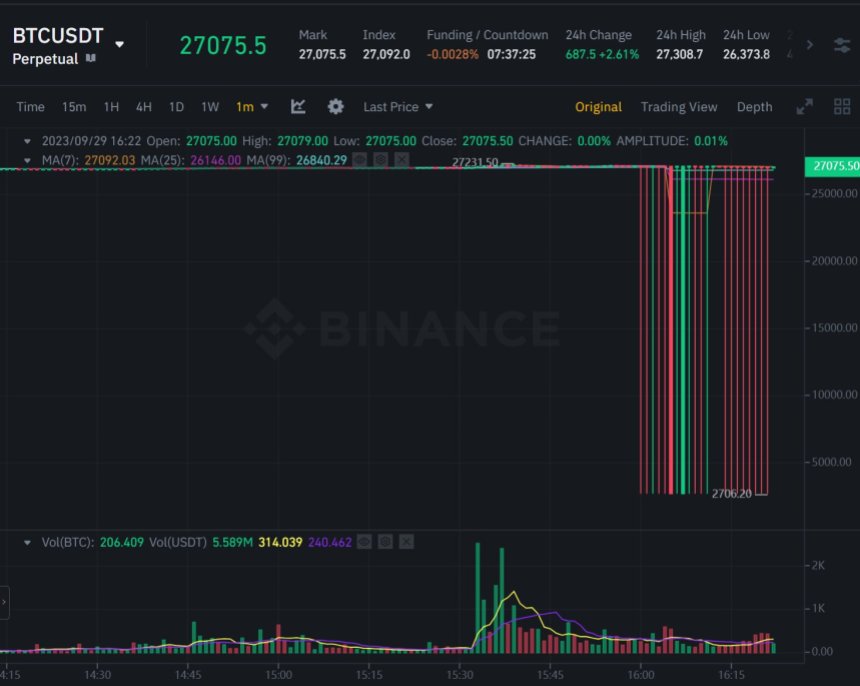 The incident was recorded at 16:17 UTC+8 time on the crypto exchange's perpetual futures platform. One of the most popular trading instruments on the crypto exchange, its CEO, Changpeng "CZ" Zhao, responded to the incident.
Via his personal X account, CZ said:
Root cause identified, some new code caused it. Need to revert and fix data. Engineers say 1hr ETA for fix. So, expect 2hr or so.
In a previous tweet, CZ clarified that a problem with the display for the trading pair caused the issue. The User Interface was unaffected, like the APIs connected to the platform.
Thus, fortunately for traders on the platform, the incident failed to trigger any stop losses or margin calls for the BTC/USDT futures positions.
This is a display ONLY issue. Trading not affected. https://t.co/ZixcFVcxQU

— CZ 🔶 Binance (@cz_binance) September 29, 2023 
BTC Price Analysis
On the other hand, despite this Bitcoin news, the BTC price seems to be stabilizing around $27,000 and could potentially flip this level as support, allowing for a bullish continuation. A pseudonym crypto analyst claims that the cryptocurrency remains below the 20-day moving average and 21-day exponential moving average.
If the cryptocurrency can reclaim this territory, then bulls could have a shot of returning above $30,000. Looking at potential clues that could hint at further profits, the analyst said:
Bitcoin Open Interest came down a lot as price held steady. I said it yesterday but I'll say it again, it's looking a lot healthier than any prior dumps. This does not mean this can't go down obviously. It does make it less likely to see these volatile up and down moves.
Cover image from Unsplash, charts from DaanCrypto on X and Tradingview