Data shows the social media talk around Bitcoin has dropped to low levels recently, indicating that investors are paying attention to altcoins instead.
Bitcoin Social Dominance Has Declined To Just 17% Recently
According to data from the on-chain analytics firm Santiment, BTC-related discussions on social media have dropped recently. The relevant indicator here is "social dominance," based on the concept of "social volume."
The social volume of any asset is a measure of the degree of talk it receives on the major social media platforms. The metric makes this measurement through a text-based data collection that Santiment has procured from different websites.
A feature of the indicator is that it only counts the unique number of posts or messages that mention the coin. This means that if a thread receives many mentions of the cryptocurrency, its contribution to the social volume will remain just one unit.
This restriction helps the social volume provide a more accurate representation of the trend being observed throughout social media. The aforementioned social dominance is a metric that tells us what percentage of the combined social volume related to the top 100 assets by market cap is being contributed by any cryptocurrency.
Here is a chart that shows how the social dominance of Bitcoin has changed during the last few months: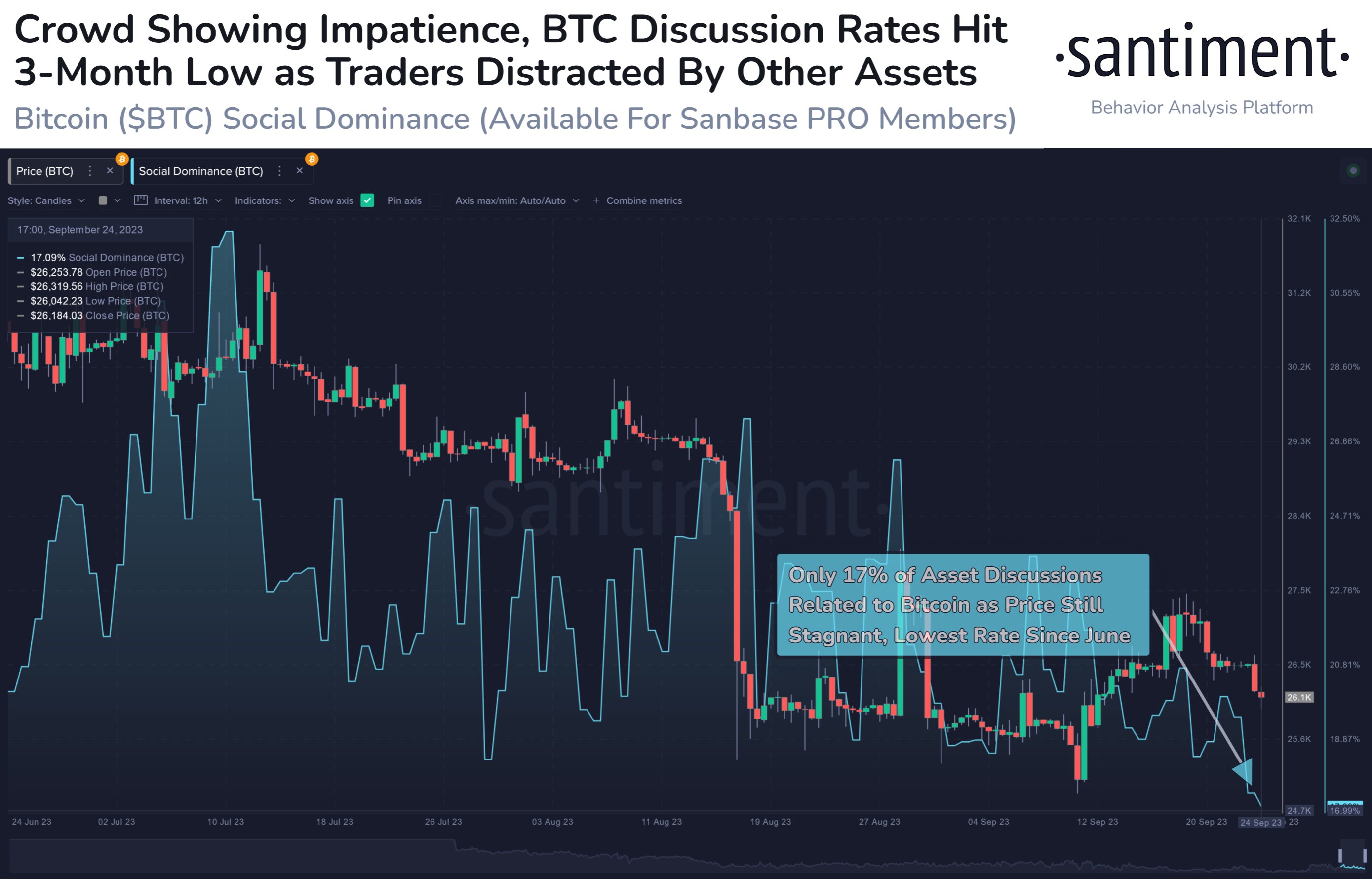 The value of the metric seems to have taken a plunge in recent days | Source: Santiment on X
As shown in the above graph, Bitcoin's social dominance has registered a downtrend during the last few days, implying that the share of the social media discussions occupied by the number one cryptocurrency has shrunken.
This is perhaps a result of the asset's price stagnating recently. Generally, investors don't find such price action interesting, so they may stop paying attention to the coin during phases like this.
With the latest drop in the indicator, its value has dropped to 17%, meaning that 17% of the discussions related to the top 100 coins currently involve the topic of Bitcoin. This level of social dominance is the lowest it has been since June.
Naturally, this drop suggests that the altcoins have recently attracted some attention. Santiment notes that traders are looking elsewhere to FOMO right now, as some of the smaller projects in the market are observing a surge in talks.
Historically, the holders dropping BTC in favor of alts has been a sign of greed in the market. Such greed, however, is generally not favorable for the sector as a whole, as only weak rallies emerge in periods like these.
BTC Price
Bitcoin is trading around the $26,100 level after having decreased by more than 2% during the past 24 hours.
Looks like the value of the asset has taken a hit over the last day or so | Source: BTCUSD on TradingView
Featured image from André François McKenzie on Unsplash.com, charts from TradingView.com, Santiment.net