The Bitcoin price experienced volatility in the last day following speculation about approving a spot BTC Exchange Traded Fund (ETF) in the US. The rumors turned out false, but the cryptocurrency managed to reclaim a critical level.
As of this writing, Bitcoin trades at $28,460 with a 3% profit in the last 24 hours. Over the previous week, the cryptocurrency recorded similar gains while other cryptocurrencies in the top 10 by market cap lagged the sudden rally except for Solana (SOL).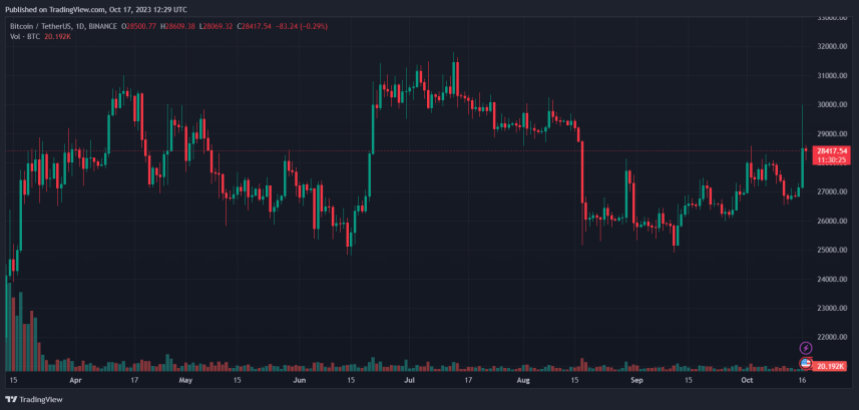 Bitcoin Price Confirms Bull Run?
Data shared by the co-founders of analytics firm Glassnode highlights the importance of the recent rally. However, driven by what many in the crypto community called "fake news," the upside momentum cleared some obstacles for the cryptocurrency.
In that sense, the data points to a generally positive sentiment around the Bitcoin ETF, which will continue to gain relevance in the coming months as uncertainty about its approval mitigates. The Glassnode co-founders stated via social media platform X:
While this pivotal milestone was momentarily attained on futures, the spot market price peaked at $27.98k earlier today. It's evident just how crucial this price point is in the larger scheme (…). The rapid movements and these price thresholds aren't just numbers. They signify investor sentiment, market dynamics.
The market activity surrounding the ETF rumors on some major crypto exchanges represented around 8% of their total trading volume. However, Bitcoin must hold its current level on the daily and weekly charts.
A separate analysis by a pseudonym trader claims that the recent Bitcoin price action broke out of a macro downtrend. As seen in the chart below, every time the cryptocurrency price breaks this trend, Bitcoin consolidates for a while before re-entering price discovery.
Despite the bullish momentum, Bitcoin can still touch critical support levels around $27,880 and $27,550 on short timeframes before resuming the rally. The Bitcoin price can go much lower on higher timeframes while maintaining its bullish structure. The analyst stated:
Bitcoin has long ago broken its Macro Downtrend. It's undeniable that Bitcoin is in a Bull Market. The question is whether Bitcoin can perform a -30% retrace over the next 4-6 months or so. History suggests it can.
Cover image from Unsplash, chart from Tradingview